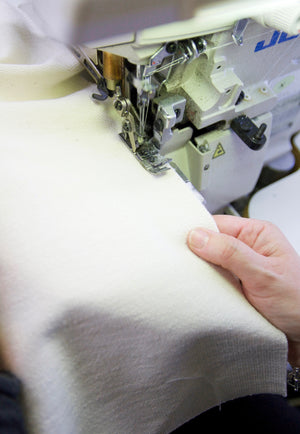 INDUSTRY
We cannot understand sustainability without a solid social commitment. We care about transparency, traceability, and people. We are aware of and committed to promoting ethical practices for the well-being of the society around us.
.blacktogrey collaborates and participates with the most relevant non-profit organizations in the industry, which promote initiatives and programs to guarantee, amongst others: equality, respect, and fair treatment at work.
Ethics
Our manufacturer partner Hallotex, is vertically integrated. All of the factories are located in Tangier, Morocco, which means that all production is local. It allows us to be close to having an overview of the work and the workers' needs. We have been to each factory and worked personally with the employees.
Since 2015, our Corporate Social Responsibility (CSR) policies have been based on the Sustainable Development Goals (SDGs) promoted by the United Nations to combat climate change, economic inequality, innovation, sustainable consumption, peace, and justice. Our factories are audited annually following strict social responsibility programs to improve procedures and offer the best professional and personal development options to our workers.
Traceability
.blacktogrey products are 100% traceable and transparent. The fibers, fabrics, garments, and production processes can be traced since they are audited and certified annually under the most rigorous standards in the industry.
We also extend this mindset to our supply chain, following our sustainable policies to ensure more reliable products. For example, GOTS, GRS, OCS, RSC, OEKO-TEX, SMETA, HIGG INDEX, ZDHC, amongst others, are part of the standards that guarantee that our products are transparent and traceable, complying with the most demanding quality and safety criteria.