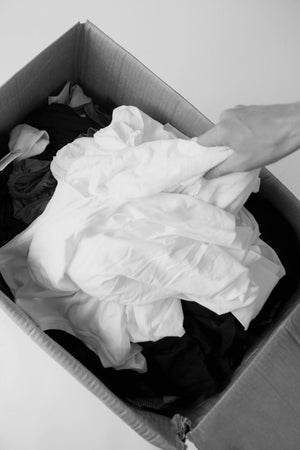 Care, repair, rewear

At .blacktogrey, circularity is always on our minds, and we are committed to preserving the world we love so much.

Here's how we turn thought into action:

1) We strive to minimise the amount of packaging we send to you. We send products in fully recyclable brown paper to avoid the use of plastic. To protect the garments, you'll also find an 100% organic cotton tote bag enclosed with each order.

2) A quality garment is one you can wear day in, day out. Our fully-recyclable garments are designed to leave a lighter footprint by using responsible, certified recycled, organic and next-generation raw materials.

3) We are committed to minimising our environmental impact by using circular production methods that avoid the extraction of new raw materials. We also have a zero waste philosophy.

4) When it is time to retire your garments, simply return them to us at the following address: Foneria 15, Mataró 08304, Barcelona, Spain. If the garment is in good condition, we will resell it on our site. If it is not in good enough condition to sell, it will be recycled into other garments. Please note, the customer will be required to cover the cost of shipping.

5) As a thank you for your contribution, you will receive a pre-access code and an exclusive discount for our latest collection.

Please note that we will be accepting garments from 22nd April until 22nd June while we trial our Recycle and Reward scheme.